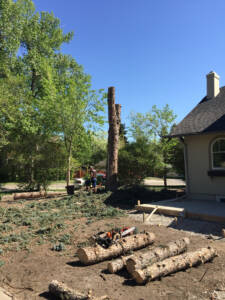 Tree Hugger Arborist Services provides a hassle-free approach to all your land clearing needs.
Including
Thinning of the lower canopy,
Stump excavation
Stump grinding,
Vegetation clearing.
Fence Line clearing
Power line safety
Our experienced crew will asses the land and implement a plan of action to achieve the best results for your landing clearing needs. We are dedicated to safety and strive to achieve the least impact on our environment when doing a land clearing project. Whether its tree pruning, brush removal, or a hazardous tree that needs to be removed, we will consider and discuss the best vegetation management options with you. If you have a tree that is structurally unsound that could strike an electric supply line, we will safely remove the tree and clear the land. If you need trees and vegetation removed for a fence line we can help quickly and safely.
1-403-471-9346
Gives Us a Call
Give Us a Call Estimates are Free!
We are a local Calgary company who pride ourselves on timely and efficient service of the highest caliber